Testimonials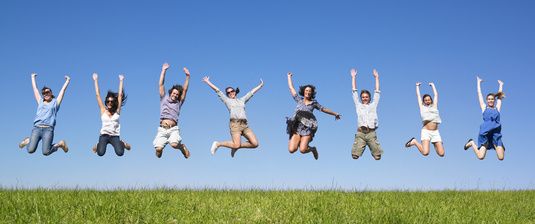 "Since having the PT with Drevna for about six weeks, I find myself more agile, able to move my body more readily and without pain. The exercises and movements my physical therapist chose were targeted for my type of injury. I must say my therapist, Jen Rice, was very encouraging with helping me with the therapy. Thank you very much!"
Elizabeth G.
"I am what my husband very nicely calls a "walking disaster". As such, I have spent a great deal of time at Drevna and Fortius and with my two saviors Amy and Amy.
My family MD referred me to Drevna when I was having shoulder issues and I was thoroughly impressed with how well my rehab went. When I tore my ACL in 2015 frm a skiing accident, I knew I was heading back to Drevna/Fortius for my PT.
I returned to Drevna the following year when I had issues with a surgically repaired right foot. Again, the Amy's were outtstanding.
Whenever any of my friends are in need of PT my recommendation will always be Drevna/Fortius."
Heather L.
"I came here after having both knees replaced at the same time. I was in a lot of pain but Jen was very patient with me. She answered ALL my questions and helped me through the pain of therapy. She was always interested in what I was going through with exercising at home like doing the steps, sleeping, etc.
I came in walking with a walker and finished walking on my own with no help and back to doing daily activities. I have had other therapist's in the past, but have never been as pleased with the service as much as the service I got here. Thank you!"
Rebecca K.
I have been active most of my life, from running for years with 2 marathons to now walking and dancing. I tweaked my right knee dancing and after my body did not heal itself, I finally saw a Dr. and asked for PT. I have had 2 other physical therapy experiences in recent years and I tell everyone this is without a doubt the BEST. I can't begin to truly say what a wonderful experience this has been, except thank you for excellent care!
June Crisp 2/21/17
For the past few years I was having pain in my jaw and was hearing a faint clicking noise. Over the course of a week I noticed it getting louder and the right side of my jaw seized up and I couldn't open my mouth very far. My orthodontist referred me to Lisa.
Lisa listened to me explain my problem and explained to me what was going on. She was very patient. Lisa provided me with exercises to help my TMJ problem and encouraged me throughout my time at Drevna! Thank you, Lisa!!
Joanna Hertzog 1/23/17
In September I went on a trip in our Model A sedan. For 4 days I bounced around in the Model A and started having pain in my back & hips. I thought it would get better and go away, but by November it had gotten worse. I couldn't bend and get back up in on motion. I went to Orthopedic Specialists, they said it was bursitis and recommend PT. I saw Chris, he said my hips were "tight as a rope" and started a PT regimen to loosen the hips. I continued twice a week for a few weeks, it appeared the hips were getting loose. After a cortisone injection for the pain I was able to bend and get up in one fluid motion. I have had great care with Drevna and will come back whenever I need PT. Drevna has been a great help.
Cynthia Sierk 1/11/17
For a number of months climbing stairs was very difficult due to hip pain. Distance walking was also difficult. Michael explained the reason for the pain. Michael and Sherri were both very patient and helpful explaining all the PT exercises and being sure I was executing them properly. Now climbing stairs and distance walking is much easier than it has been for at least half a year. Thanks much to the staff for the wonderful help.
Mim Eberly 1/9/17
Since breaking my wrist in August from a fall and falling during a recent hike and bruising my ribs, it was suggested by Chris that I have a balance evaluation. I was not aware of such a thing through Drevna Physical Therapy. I had my balance evaluation done by Anita and it indicated that I did have some balance issues. I made a total of 8 appointments to work with Anita on those issues. As of 12/16/16 I have completed all my sessions, I am utterly amazed at the difference those sessions did for me with my balance issues. After working with Anita and doing Pilates classes with Amy and Silver and Fit with Amy Finnegan, my balance has improved. I walk better and my leg is stronger. I am grateful for all the help in improving my stance and gait when walking. I now hope to be able to do more hiking. Thank you to everyone for your help.
Elaine Yohn 12/15/16
Bill has had Parkinson's for 12 years. Dr Harle recommended Anita in 2013 when we moved to the Masonic Village. She was fantastic and taught us so much about exercise and PD. In January 2015 he had a stroke. In March 2016 he stopped exercising. Dr Harle insisted he must return to Anita. She fit us in her schedule to maximize the effect of his PD meds. She worked around his limitations and a bout of congestive heart failure. Bill was using a standard walker and when Anita questioned him about falling 5 times she recommended a rollator walker. When we got it she taught him to use it. Anita prepared a home program for him with stick drawings and theraband. He has increased his functioning, his walking and is going to continue exercising 2 x a week at Masonic Village wellness center. Anita is coming to it to set up a program for us to follow here upon discharge from Drevna. Initially Anita also suggested assistive devices we are still using that make life easier. She is Marvelous!!!
William Vohs 9/29/16
I had a nagging pain in my upper back/shoulder blade area after playing golf one afternoon. I visited a chiropractor for 2 weeks and nothing was helping. The chiropractor recommended I do some PT. After a trip to the family Dr. I immediately thought of Drevna to go to for PT. I was here previously for therapy on my index finger when I was 16. After getting a diagnosis from Chris and following instructions from him and exercises from Mandy my shoulder and upper back area are feeling much better. I was able to play golf again and experience no pain. With my shoulder feeling like it is I feel like I will be able to throw 105 mph at my upcoming alumni baseball game, or hopefully at least 70 mph. Thanks Chris and Mandy for everything! You both are great at what you do. Keep up the good work!
Luke Gatti 9/22/2016
I had so much neck pain that I didn't realize until finishing PT that I didn't completely turn around in the car to check for other cars. Amy is an amazing therapist and got me back in shape in no time. She gave me easy to do stretches and exercises for at home that will keep me in shape. Thank you Amy!! Also thank you Whitney for your patience with setting up appointments and your wisdom regarding my running.
Kelly Albright 8/18/2016
After battling breast cancer, I was frustrated to find out I now had TMJ issues. I was referred to Lisa, and didn't know what she was going to be able to do to help, and I wasn't excited to have more appointments on the calendar. Just 2 months later, I've had a huge turn around, physically and mentally. She explained how the body is all tied together and how my surgeries had affected my jaw. I had no idea! Not only that, she also had an explanation for a few other issues I'd been having. The Doctor's weren't addressing. She's helped me resolve my TMJ and a few other issues that were all related. She also helped me build up my strength for the time since I had my kiddos, 4 years ago. I feel strong and energetic. I'm thrilled to feel my body healing, now that I'm armed with the knowledge to help it. Cannot ever thank Lisa enough for giving me back so much of my life again. The future looks bring and strong!
Sarah Adamis 8/8/2016
I tore my rotator cuff twice actually. The first surgery was in August 2015, the second was in November 2015. After both surgeries I came here (Drevna PT) for physical therapy with Michael. I have received great care after both surgeries. I challenged Michael with the second because a procedure called Conexa was done to repair it. That was a new procedure to work on for him and with guidance from the surgeon we proceeded to work on my shoulder. After about 70 PT visits I'm well on my way to being as good as it will get. Thanks to Michael, Sherri and everyone here for all the help I received.
Lynn Bender 07/06/2016
Before coming here I was limited in the use of my right shoulder and arm, and was unable to perform a lot of daily activities such as putting on a coat, reaching the top of my head to comb my hair or use a curling iron, etc. Tim worked with me and patiently helped relearn many activities. I can do most everything I need to do! I particularly enjoyed the camaraderie which really made coming for a workout enjoyable and FUN!
Nancy Eberle 4/6/2016